The Siblings were all born in Manila. My Eldest in a Diagnostic Clinic along Blumentritt, while my second and youngest in Chinese General Hospital which is also located in Blumentritt. They were all born thru normal birth delivery.




I didn't encounter any problem in giving birth to all of them. But I will admit that the toughest, was my last one. The first two were so easy.....no labor pains and a quick delivery. For my youngest, I experienced 26 hours of agony and labor pains. But of course, all of these pains have gone when i saw my baby crying as they put it in my chest. We were even allowed to take pictures of her inside the delivery room.





My Dear Babies, these were the happiest mommy moments in my life where I could still cuddle you in my arms

.

So little....so fragile....so

innocent...


My eldest -

7.7 lbs:

This was taken after a few hours of giving birth...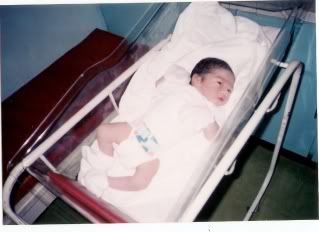 My second -

6.1 lbs
: He needs to be admitted in the hospital after I gave birth and We were able to see him for the first time and bring him home a week after giving birth.
This was taken a week after giving birth

...
My youngest:

5.1 lbs:

The 1st photo was taken inside the delivery room right after giving birth and 2nd was inside the nursery room...
This is my 18th entry for