My little girl already knows how to look at the camera when you're taking pictures. This is a big milestone for her and also for us since we can easily take a shot on her. Her good mood plus a camera equals to a fabulous shot :)
Fab shots at home...
Fab shot at the party...
Fab candid shots...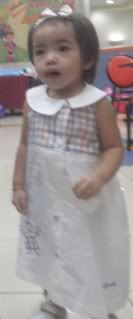 Fab face painting candid shots, i love this coz she's so tamed here :)...