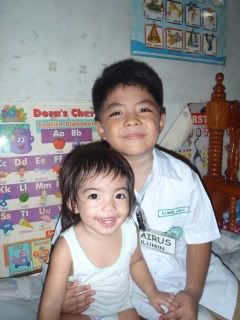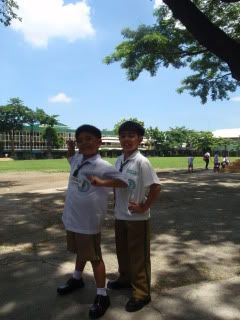 Majority of schools start classes today. And one of this is MJM's school, the NDGM. I'm the one who's very excited on this day. Yesterday, I've prepared everything they need for school. Kuya is in morning classes while Yaku is afternoon. But we still don't know what their sections and rooms are. This will be posted at the front gate today
(I hope next time they would advise it earlier, better before the first day of school).
Parents really need to accompany the children below 9 yrs old on their respective classrooms because the school is big and has several entrances. The kids must be taught by the parents how to get into their classrooms alone until tomorrow because we are no longer allowed to enter inside starting on the 3rd day of school.
Waking up early is so damn hard after the 2 and a half months of vacation. We need to make this part of our routine again. As this goes along with the baon preparations, homeworks, quizzes, exams, projects and other extra curricular activities.
There will be a big adjustment for Yaku in shifting from preschool to grade school but I trust him that he can make it and be able to surpass whatever challenges instore on this school year. Kuya, I know is already used to whatever norms and practices the Gradeschool Department has. He can even guide or teach Yaku on his lessons. I just wish that he will bring a lot of patience with him in doing so :). Kuya acquires more of his Dad's traits and one of these is....."edginess".
Hope that my boys will maintain good grades, a positive attitude & behavior on this school year.