This picture was taken during Kuya's 7th Birthday while waiting for our dinner to be served. Our little girl was only 14 months old then.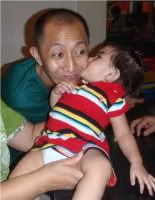 These pictures were taken yesterday. See my little girl's different moods when I asked my two boys
to sit beside and kiss her after our cue :).