Mommy moments theme for the whole month of June will be all about Daddies. I'm sharing today Daddy's photos with our newborn angels.
Taking care our first born child was tough. It was a new experience and a big adjustment for me and hubby. Our first born baby was awake at night and sleeping throughout the day. I am so lucky to have hubby around especially at those times when I needed to rest and have some sleep. He's a hands-on daddy helping me nursing our baby...
He's also helping me putting them to sleep. Here's our second angel cradled by his dad...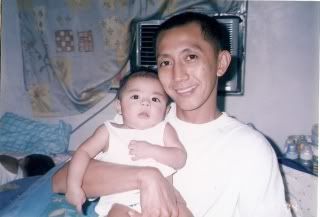 And here's our youngest on daddy's chest. Aren't they so cute?...
This is my 32nd entry for