Here are the snapshots of our family summer outings.
March 11 8 Waves in San Rafael Bulacan
This was our first summer outing sponsored by a friend. It was a birthday treat for close relatives and friends. MJM were scared on the waves as it splashes hard toward them. It took awhile before they were able to enjoy the water. The kids appreciated more the kiddie pool because they could play with the water by themselves. Our only complaint was that we were not allowed to bring our baon inside the resort. This was because they have a restaurant inside. So what we did during the lunch break was we went outside then, we ate our baon beside the van. Good thinking, Huh!
March 25 PAGASA
We totally lost our control here. We swam under the heat of the sun without limits. As the end result, were all tanned. The place was reserved for our group alone. This was also a sponsored trip. All foods were shared to everyone.
The sumptuous lunch was superb. (burp!)
April 13 Sitio Lucia in Sta. Maria Bulacan
Sitio Lucia is a Dinosaur Theme Park that you can truly enjoy. This was another sponsored trip that took advantage of the long vacation. What we just brought in was the assigned food to us. The entrance and air-conditioned room were all free. Since the kids were already comfortable with the pool, we just let them swam alone with their salbabidas. What we did was just to watch them from a far. It was a nice play to stay which offers comfortable rooms. My kids were able to take a nap for a while during lunch time.
April 22 & 23 Baloy Beach in Subic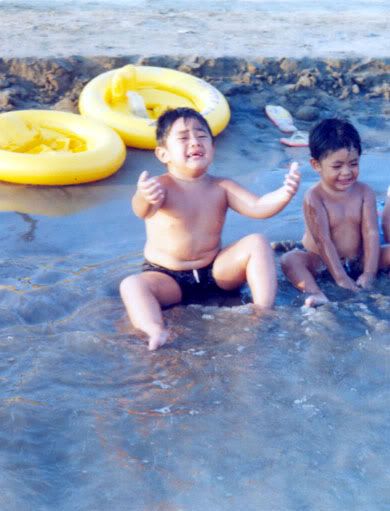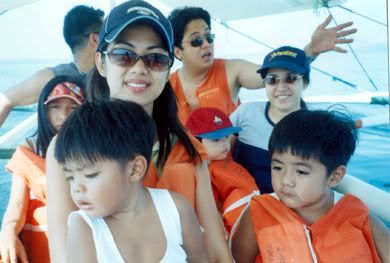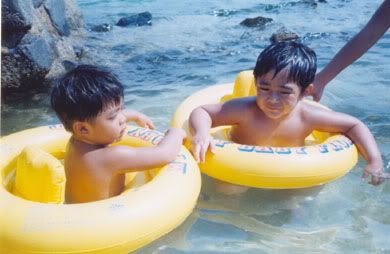 This was an overnight trip where we really expended money. I can say that we have chosen a nice place for a fair budget. It is MJ & JM's first time in the beach. We find it difficult at first to encourage them walk barefooted on the sand. But when they saw us, they already follow through. The sand issue never stops there, at the time when we get out of the water the two kids were too anxious when the sand pasted into their wet feet.

We were able to make the most of the summer season thru these places we traveled. The kids took this advantage to enjoy and explore in the water. I can say that it is the best hideaway experience with my family.
We would like to thank our friends who sponsored the trips. (wink!)