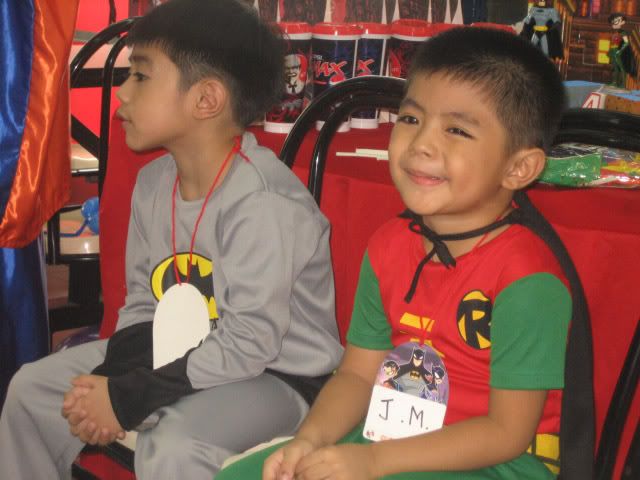 MJMs 4th & 5th costume birthday party was celebrated last Saturday, Feb 23 at KFC Grace Park. The two boys were dressed as Batman and Robin buddies. Batman is actually Kuya's favorite character and luckily KFC has theme party for that. Yaku is fine with any character so we decided him to be Robin.
The party started with an opening prayer led by my cousin. It was a lively party as almost all of the children participated in party games. We just experience a problem in the food distribution. Two to four tables ate late because of a disorganized food set up and head counting.
We invited a clown who facilitates the game, do the balloon twisting and magic. KFC also has a Chuckie mascot that renders a special dance number for the kids. The best in costume chosen by Chuckie was a little boy dressed in a Teenage Mutant Ninja Turtle. The winner has a special gift from the celebrants.
Everyone goes home gleefully as most of them take home 2 loot bags, one from KFC and another one from us.
We would like to thank all the guests, relatives and friends who came and make this day a memorable one for my kids. We hope to see you again on the 7th Birthday of MJM.